In Small Town America, it was customary to have a community
Christmas gathering. Potluck, Children presenting the Nativity story and the Community Choir singing was a yearly tradition.

Afterwards, those of us who loved to sing might go Caroling.
Outside the snow crunching beneath our feet and ice crystals
alive with their enchantment, accompanied our tour from house to house. The widows, Widowers and other shut-ins were
not forgotten. We all had help to make and deliver Christmas baskets earlier in the day.Christmas programs at Church were now behind us also.

While we were away from home we were very diligent to watch the sky for Santa and his sleigh. We always arrived to find gifts deposited under the tree. Santa the "Jolly Ole Elf" had been there and try as we might we never quite caught him.

Remember the warm air, ladden with Christmas smells that assulted us as we finally came in the door? A hot bowl of Chile and a cup of hot chocolate with melted marshmallow on top were eagerly downed

The warmth from the fire in the fire place, premeated the room. The flames licking thither and yon, The snap, crackle and pop invited us to cuddle close with other members of the family for a tradition of reading.

First was the story of the baby Jesus, with Joseph, Mary, the Wisemen, Shepherds and various animals huddled in the
Manger. The children loved to play the parts of the nativity ...but the evening wasn't over until the "Night Before Christmas" was savored once more.


"The Night Before Christmas"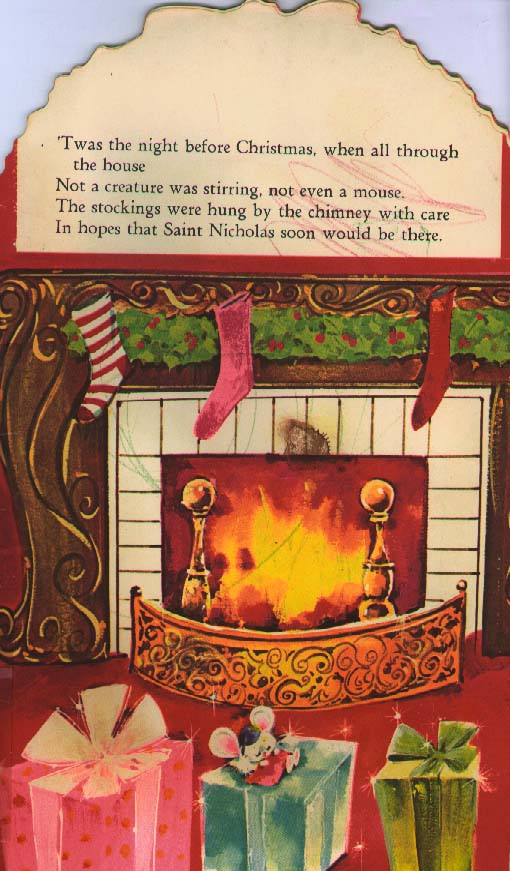 'Twas the night before Christmas,
when all through the house
Not a creature was stirring,
not even a Mouse.

The stockings were hung by
the chimney with care
In hopes that Saint Nicolas
soon would be there