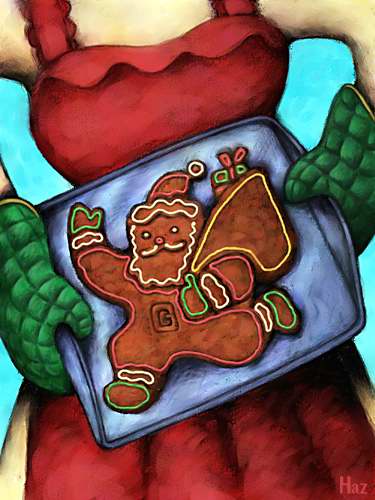 Baking Woes: by Georgene Humphries

Picture if you will, me standing in the kitchen, my Kitchen Aide mixer on the counter before me. My hair is standing in cork screws all over my head. My eyes crossed out in utter shock.

There is smoke coming from the mixer, clouds of flour wafting from the mixing bowl. My hand is raised with a
mixing spoon in it and my other hand is cast to my forehead.

Now you ask, "could this be Georgene?" And I wail in distress, "I'll never bake cookies again !" In fact the micro-wave will be my biggest challenge in the future.

"How did I get to this point you ask?" It must be "Ole-heimers ," comes my reply for want of a better explanation. At least I hope it's not more serious.

I got up this morning and decided to drag out the baking equipment to make Christmas Cookies for a social this pm.. Now keep in mind that Jimmy and I are retired and the family comes only on occasion. But who would believe one could retire all of their cooking experience too. This without even trying has happened in less than ten years.

But back to the story at hand ...I lifted my mixer off the shelf and carried it into the kitchen hoping I did not slip something out of place in my neck or back again. Just got my neck up and going from my last fiasco. I reached for the butter flavored crisco and measured it into the bowl.

"Maybe I had better taste it for fresh" I think. Can't recall using it since this time last year.
Well... "it did taste a little like rancid butter" I tell myself, so I send Jimmy off to the store. Meanwhile I try the brown sugar which is hard as a brick. Still undaunted I place wet paper towel over it and set the micro-wave on defrost for five minutes. Half way through I test the sugar.

"Ah-ha" ...I think, I'm making progress. I grabbed the butcher knife and jabbed it until it crumbles into smaller lumps. "Maybe if I put it on a pie plate and cover it
with more damp paper towels it will soften sufficiently." I tell myself.

I start the micro wave again and check again in about 2 minutes. "Yes ...it worked well, " I say to my self, as I test the nice soft brown sugar and measure out one cup full and dump it into the bowl along with 1 cup white sugar.

By now Jimmy has returned and so the one & half cups butter flavored crisco goes into the bowl. The mixer whizzes the mixture into a beautiful creamy texture to which I add 3 eggs and continue creaming.

As I reach for the white flour, I discover I am short about a cupful of the two & one half cups the recipe called for. "I can fix that", I think, and add a cup of wheat berry
flour. Next comes the oat meal. I am a cup short here, so I rummage in the cupboard for the peaches and cream instant oatmeal. "That should work fine" ... I think, as I add the 3 cups of oatmeal to the creamed mixture.

Back to the refrigerator for Angel Flake Coconut, nuts and chocolate chips and I add a generous 1 cup of each. I grab an overripe banana from the fruit bowl as I pass the sideboard in the kitchen, and after pureeing it, add it to the dough. "Time to taste," ...I think, as I reach for the vanilla and add about 1 oz of it. "Tasting pretty good, even though I do say so my self" ...I think.

As I turn on the mixer on one last time, I am horrified as the cap over the meat grinder hole falls off into the dough. Crunch, crunch, grind, grind wails the mixer in major distress. I grab the electric cord from it's socket but
alas ...the gears are stripped.

I yell for Jimmy and explain my plight, but don't get much sympathy there, as the enormity of the mixers demise settles
upon me, I gritted my teeth.

Well, ...I'd better get these baked I think, and so drop the dough by teaspoons full on to the cookie sheet and slip thim into the oven. 12 minutes later I answer the buzzer signaling they are finished. "Hummm", ...I think as I peer into the oven.

"Something is not quite right here. The cookies don't look like my prize winning master pieces of yesteryear. Sheeesh ...wouldn't you know, I forgot the soda," I say to myself. This discovered upon reviewing the recipe.

The family tales of disastrous baking projects float by my mind, as I recall the family exchanging tales last thanksgiving about near disasters. Now, this has got to be the biggest disaster since retirement.

But wait "..maybe I can stir in the soda," I think. Reaching for a 1 oz bottle of Rum extract, I measure the 1 tsp. of soda into a cup, add the extract and stir. "So far so good," I mumble out loud. "...thinking "my mama always told me it was ok to talk to one's self, as long as one didn't answer one's self." I drizzle it over the dough and stir it in.

The next batch goes in the oven. As I remove them 12 minutes later and gingerly taste them, I heave a sigh of relief. I grin to my self, "I'll bet no one will ever know the difference," I think, as I drag out the little paper plates, festive with Christmas mofif, and colored bows to wrap them
with. "But ....my family and friends may wonder why I've given up baking for all time, after December 1998.


Copyright By humphri@northrim.net (c) 1963-2000, all rights reserved. Please feel free to use these pages for your personal use.