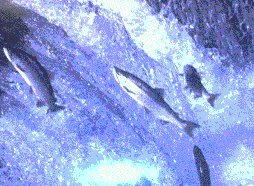 Salmon Fishing At Kenai

Mean while Jim and T-Jay had made arrangements to go on an all day fishing trip for salmon. They were out fitted for fishing and ventured off looking forward to a smoked salmon lunch and fishing to their heart's content. The season for pink salmon was just getting to it's end. After they spawn, these magnificent fish then die, since they can't survive in fresh water. Every cast caught a pink salmon and so they caught more than enough. However they caught and released because of the quality of the fish. T-Jay caught a very large King Salmon but he broke the line and it got away. A lady fishing next to him then got her line caught on T-Jay's trailing leader still attached to the salmon. She was able to pull the salmon in and the trophy for the day went to her. Shortly after that T-Jay caught another Silver and was able to land that one. Jim hooked a King salmon but was unable to land it. They had a great day!
The evening was spent exploring on the self-guided nature trail down by the beautiful river and then we viewed an Alaska Nature Video.

| | |
| --- | --- |
| | The Bears We Didn't See |
| | |