Anchorage:

Next we were off into Anchorage, where we saw Sea Planes and the largest Sea Plane Base in Alaska (probably the US) situated at Lake Hood. The local people have quite a system worked out to secure a place to harbor their plane. Space around the lake is critical and they can only lease space for two years at a time. Each family enrolls each member of the family on a waiting list, for a successive two years lease. That way they don't have to forfeit their spot. We did the get acquainted with Anchorage tour as we saw the beautiful town, along with our tour guides discriptive dialog. The earth quake of 1964 was referred to time and time again as we viewed the areas that it had devastated. We found they were still using the destruction it caused, to point places of interest associated with the damaged areas. We remembered the earth quake well, ...since our employer, Morrison & Knudsen had sent Jim to California, from Seattle, to help with the damage clean up down there. I particularly remembered it because he did not make it home for Ann's birth in Seattle.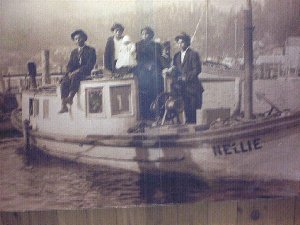 We were surprised at how modern Anchorage was. This is a picture I captured from one of the museums, of the early arrivals in Alaska. With a little imagination one can travel back in time to the Alaskan Yukon and the gold fields.

We saw the tribal Lodges, Boats, Totem Poles, clothing and other memoriabilia. The wood they fashioned from was the great Cedar trees.

It was interesting to learn tht until several genertions back in time, their lodges etc., were quite bleek. Color and artistry were added after a white man visited them and taught them to take pride and make things beautiful as they fashioned them.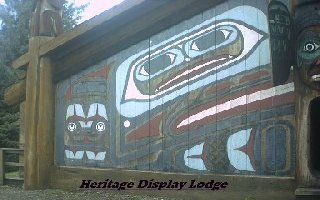 We took pictures at a gate fashioned from two Whale Bone Ribs. These towered about 20 feet over head as we stood in the middle. We then gathered in a conference room and listened to an elderly Eskimo Lady (86ish) reminisce about her yesteryears and explain the tools and culture of her people. She was the last member of her tribe to survive. She had great ancestral pictures of family in tribal regalia and many ancestral memorabilia on display. Sadly her lineage was not written and she was endeavoring to leave their family history as she knew it, having been passed down the generations from memory.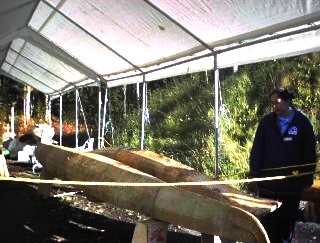 3)We went first to Anchorage where our Princess Tours Coach collected us, only to deliver us to the beautiful Captain Cook Hotel. We were very comfortably ensconced into a lovely room. As we wandered out on the town that evening we were impressed with the beauty of the city. We ate in a restaurant depicting a yesteryear in the Yukon and the halibut fresh from the icy bay, was delicious. We were in time to see the beautiful teams of Clydesdale Horses from the US, parading on the street in front of our hotel that evening.

The next morning, 7 Sept. we were gathered up once again as we began our tour on way to the Kanai Peninsula. We went first to an Alaskan Native Heritage Center being newly constructed. This was a 26 acre site giving us a unique opportunity to become acquainted with the traditional ways of the five Alaskan Native Cultures.

It was still early in the morning and the center was just waking up. We walked around a small lake where we saw their traditional types of houses, and were invited into a tunnel like doorway, by a tour guide of the particular tribe depicted. Usually the house was about 1/2 under ground and one had to enter through this small tunnel like door. Customarily they used native Cedar trees hacked and hewn into shape using their tools made from bone. The canoes and other boats were constructed from cedar logs and animal skins.

Above: As we left Ancharage we went first to the Heritage Center. The collection was facinating. This is a Totem Pole. I'm not sure where it was located. Just enjoy!
We were treated to a lecture by an authentic 86 year old Eskimo lady. She had a display of pictures of her family. I took this picture of her mother and in the right hand lower side is her grandmother. She was the last one of her tribe. Her oral history, hopefully will help with the history of the area. She explained the use of many of the utensils and how they were used, all from her personal collection.

She also explained how the tribal doctor would have treated a member of the tribe if athey were in need of medical asistance. They used the herbal remedies from the land around them. One thing they used was "Nettles."