...we were looking forward to seeing the "Northern Lights" They were predicted to display about three in the morning. The sky was cloud covered and grey, so we missed the spectacular display high above the clouds.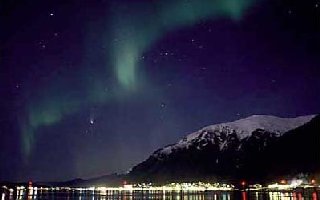 Below: The wind making mischief with the snow cover high on the mountain top.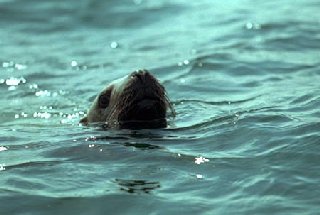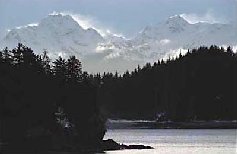 Majestic Places

Alaska ...one has to experience Alaska to appreciate the majesty of it, even in the Fall like weather we had while there. We have returned home after having a most marvelous visit to that State. What can one say after having stood in awesome places?

As the song writer put into verse,
"Oh Lord my God, when I in awesome wonder,
consider all the worlds thy hands have made ,
I see the stars, I hear the rolling thunder,
thy power through out the universe displayed,
when through the woods and forest glades I wonder,
I hear the birds sing sweetly in the trees.
when I look down from lofty mountain grandeur,
and hear the brook and feel the gentle breeze,
then sings my soul, my savior God to thee,
how great thou art, how great thou art,
then sings my soul my savior God to thee,
how great though art. HOW GREAT THOUGH ART.

Our plane, the Alaskan Seabird Flight, took off from Seattle and I realized I was actually going on this trip. As the miles rolled by, we were able to see very little of the scene below. The misty clouds and near storm conditions made the ride a little bumpy. Finally a small portion of the inside channel, we were following as we winged north peeked through at us, appearing from the mist below and then a large space of sky appeared just in time for us to view our first glacier.

A mighty cascade of frozen ice appearing like a beautiful aquamarine waterfall, flowing from a mountain top. It was as though a sparkling jewel had been suspended in time, vivid aquablue in appearance the scene unfolded to our awestricken eyes, then once again the view was enveloped in the mists. How tantalizing it was, giving us a preview of things to come.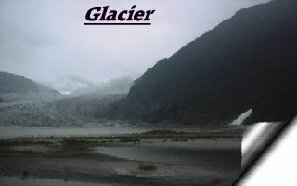 One of the first Glaciers, peeking through the gloomy weather, giving us a taste of things to come. I wondered if we would get any worthwhile pictures through the mist. I ended up getting some rather spectacular shots.