My thoughts on the possible ancestry of Edward Burcher (Bezer) and who I think he may be back to the 1st Earl of Bath.
POssible lineage from THE EARLS OF BATH (BOURCHIER)

1st ...John sp Cicilia Daubney

2nd ...John d 1560 sp Eleanor MANNERS
Son John md Francis Kitson
Son Lord George BOURCHIER (Fitzwarren?)Father of 5th Earl Henry md Rachel FANE
3rd ...William md Elizabeth Russell #2 Ann Lovett

4th ...Edward d 2 Mar 1636 s/o 3rd Earl William

5TH ...HENRY BOURCHIER (Brasser) b 1614 latter of New York Grandson of 2nd Earl John sp Eleanor Manners. Henry's father George Bourchier (Lord) sp Martha Howard. Henry md Rachell FANE, her father Francis FANE. Rachel of Tawstock , Devon, England.

1st Earl of Westmoreland FRANCIS FANE.




GEORGE BOURCHIER [Lord]

Illegitimate son of John Bourchier [Earl of Bath] and wife MANNERS?.
#######################################################

ORMOND DEEDS OF IRELAND Deeds of Ireland

• mentions Lord George BOURCHIER
• SONS Henry and John received 2000 acres of Irish Plantations land
• mentioned in Book Scottish Undertakers of Armagh
• Xck for Bunker Hill in Mourn Mountains, Down Co., Ireland .See Bunker Hill in MASS named for this family.

GEORGE BOURCHIER Lord
• bef 1642...Shows up in Plymouth Colony [Braziers of Bunker Hill] as GEORGE BURCHER, father of EDWARD BURCHER of Southwark London. [5TH Earl of BATH?]

Harry BRASHER [married FANE?] with Isaac ALERTON [of Plymouth & New Haven Conneticut] move into New York

GEORGE BOURCHIER Jr. [BURCHER] with William BEVERLY AT Beverly Manner near James City. HAD LAND.

• Many records in Virginia Antiquary spelled BURCHIER
• various spellings
• Also Burchers of Richmond Virginia [Northern Neck Colony].
•
Edward BOURCHIER 5TH Earl of BATH.

• Abt 1642 Edward and wife from Southwark, London, England Disappeared from Plymouth Colony about 1642ish
• An Edward BRAYSHER (sp) arrived in & Took land in WILTSHIRE.
•
EDWARD BRAYSER [spelled many ways] had multiple land grants in NORTHERN Neck of VIRGINIA. [King & Queen County.]
• Along Rappahanock River. What happened to him? Was he the Pirate Edward Bechler?

EDWARD BECHLER May be VARIANT SPELLING -(Pirate hung) on Eastern Shore of MARYLAND. No proof same Edward? [bk Eastern Shore.]

EDWARD BEZER [was he Edward 4th Earl of bath??] spouse Jeane Lawrence father of EDWARD BEZER sp ANN FRY of STREAT or Streap [from Pennsylvania records] Manor, BRATTON, Somerset, ENGLAND & CANNINGS, WILTSHIRE. See lineage Charts for dated etc.
[Insert URL for lineage charts]
I'll include sources for the information wherever possible.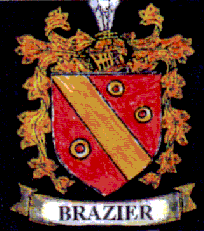 TEmporary Crest: Here I'll include a picture of this family Crest when one is available
Memories and Stories
I'll use this area to describe any personal memories I have about this person, or any family stories about the person I might have heard.