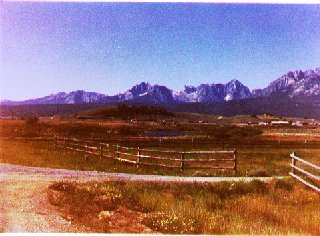 ?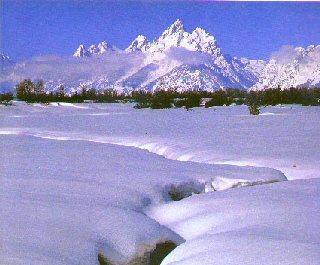 The year was 1933 and depression times. Although the country was in the clutches of the depression, it had not had a drastic effect on our family. Dad, after learning the Sawmill trade at the side of his Grandfather, Elsbury Eytchison and father Lorin Eytchison , at their little mill on Cottonwood Creek, above Boise, had moved the entire mill operation to Stanley, Idaho. There had been a family crisis in the business and it became necessary to relocate and start over.


Lester, with a generous endowment of personal inventiveness, was to rebuild and run the mill in the area nestled along the primitive area of the great Rocky Mountains. He logged the lodge poles and built many of the log lodges in the area, that were on the retirement estates. With his natural aptitude he soon became in demand as a stonemason and built many of the fireplaces in the Lodges, from native rock.

Lester also took hunting parties into the primitive area in search of big horn Sheep. On one occasion, a prestigious Dr. went out hunting. Since he was unable to shot an animal, dad downed the sheep for him. The Doctor took it home and told everyone how he had shot the Sheep. Dad always bristled whenever it was brought to mind, he felt he had really been taken advantage of.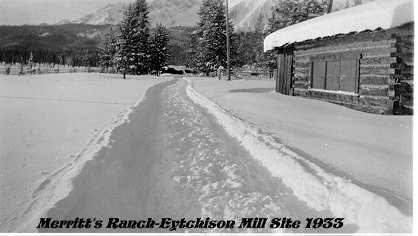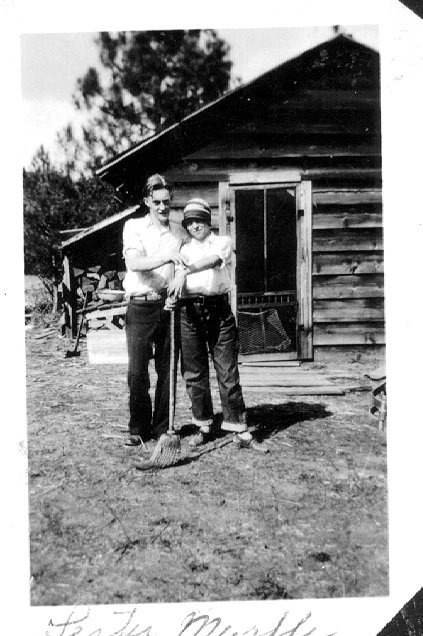 After my arrival in St. Lukes Hospital, in Boise, mother's health was in peril. I had arrived safely, however just topping the scale at 4 1/2 pounds. Mother, who after the very difficult birth of my older brother Hubert (It had taken some 72 hours and her life had been given up at one point) , had been counseled to have no more children. Now as she returned home to Star, her health was in peril. She had a Thyroid condition that demanded immediate surgery. The operation on the gland was necessary, just three weeks after my birth. So, grandmother and Grandfather Eytchison took me. I understand Aunt Ethyl was thrown from a horse about this same time, and was din the hospital also. Due to this injury she was unable to have children after her marriage to George. It was George & Ethyl I was named after. Minnie Ann my grandmother, took care mother and me and after several weeks time it became evident that I was not doing well. I was unable to digest the cows milk formula they were bottle feeding me. Grandma always said I would look up at here with "huge" blue eyes and steal your heart. Of course she was a proud grandmother.


Because of the estrangement that arose when mom and dad married, the fact that they were 2nd cousins making the decision very complicated, (they had decided after consulting with Dr. Hall , that even though they were 2nd cousins, they would go ahead and marry) the Lenaghens and Eytchisons did not speak. I never found out the reason behind the rift. So... Mom's parents were unaware of what was happening. They lived several blocks away. Lori had refused to inform them, when mother had ask him to take a message.

Mom had seen the children of her older Sister, Theresa Bachmann, pass the house from time to time. She decided she had to enlist some help if I was to survive. So ...she waited her chance.

One afternoon while Minnie was away from the house Myrtle hailed one of the girl cousins, bundled me into a buggy and proceeded to have my cousins push me to her sister's house.

Aunt Theresa who was a practical Nurse, saw immediately that I was in need of special care. Upon the advice of the old family Doctor, Doctor Hall, she acquired a "Nanny Goat", which was to provide the nourishment for me to survive. I soon began to thrive and gained weight steadily.

Some three months later after my birth, as spring began to arrive , Mom determined to transport us to Stanley. They left in March and it became quite an adventure. She talked her younger sister, Aunt Dorothy, into driving the little "Whippet Roadster" car and bundled me, Hubert, her few belongings and secured snugly to the fender, in a crate, the "Nanny Goat". Their first night found them pulled to the curb in Gooding Idaho. Two young women , 2 children, and a Goat, wondering how to deal with the night after a grueling drive from Star. It became obvious they were not welcome just any place, with the Goat as part of their company.

To their surprise and relief a kindly man approached the car and ask if he could assist in any way. Taking note of their plight he invited them, Goat and all , to stay the night at his home with his family and kindly took care of the goat's needs also. Mom always insisted that I was potty trained by three months of age and she began to get frantic because I had refused to urinate the whole day while traveling. However it was finally accomplished by holding me over the little potty. She had me in silk panties by then, she said I refused to soil them.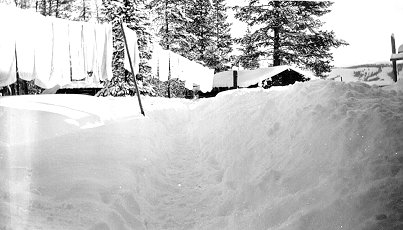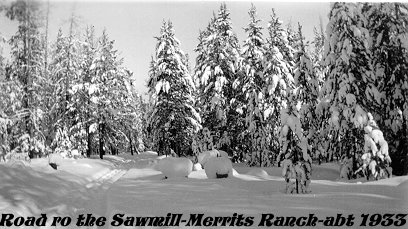 It was during this time that Aunt Dorothy met Uncle Kirby and they were soon married. She was frightened of being alone in the camp. She tells of one time they left her to look after camp and eveeryone else was gone. You have to hear Aunt Dorothy tell this story ...she said "for some reason I couldn't get the truck, the only vehicle in camp, to go into gear. Try as I might it would not go forward. Then I discovered I could get it into reverse. Well ...I headed the rearend toward Stanley and backed up all the way."

For those who know Stanley, "all the way" meant across the meadow at the toe of the mountain on Goat Creek, to Juggies salon in Stanley. Aunt Delilah was with them also for a short while. Because of the depression, there was a group of immigrants, relatives I think, for the most part, who were from Kansas. Granddad's younger brother Ross Eytchison, Louis Shaver, and Kenneth who later had an accident at the mill and lost his finger in the mill. Now that I think of it, this must have been the time that Kirby and Dorothy met, his family was from Kansas also. Like a big happy family they worked, played, and struggled against the depression.

According to Uncle Kirby this was a time of many reversals in the Eytchison Lumber Business, and he and Lester had a falling out. Lester was not money wise. He was a hard worker but the business end was not a priority. As years passed Myrtle stepped in and kept the office work flowing. However as time proved, they made fortunes and lost fortunes. The were usually borrowing from Peter to pay Paul.

When they arrived in Stanley, there was snow everywhere. At a later time, Mom was following Dad with the car, and could not tell where the road was.The fence posts were covered and no guideposts were visible. The Whippet slipped off the road, the tires spinning to no avail. She found her self in the snow bank with Hubert and me in the car and no help near at hand.

She was able to put a blanket under the wheels and the car pulled it's self back into the tracks where she continued on. I remember them telling about Dad borrowing Mr. Meritt's car for some reason He wrecked it and they had to pay for the car.

As the summer worked it's way into fall, a shadow fell over the operation. The lumber had been delivered but the payroll had not been delivered, this time no fault of Lester's, and several months had gone by without payment of the crew or pressing bills.

They had to have groceries to feed the hungry crew. The person who was entrusted to pick up the money took the bundle, obviously young and foolish, and left. So their own depression had set in. Struck with this reversal, they had to move before they all perished. Uncle Kirby was becoming more and more disillusioned with the operation and so he and Lester devised a plan. Kirby remained in Stanley and Lester began building the mill at Schafer Creek, Bogus Basin, Idaho